4 / 4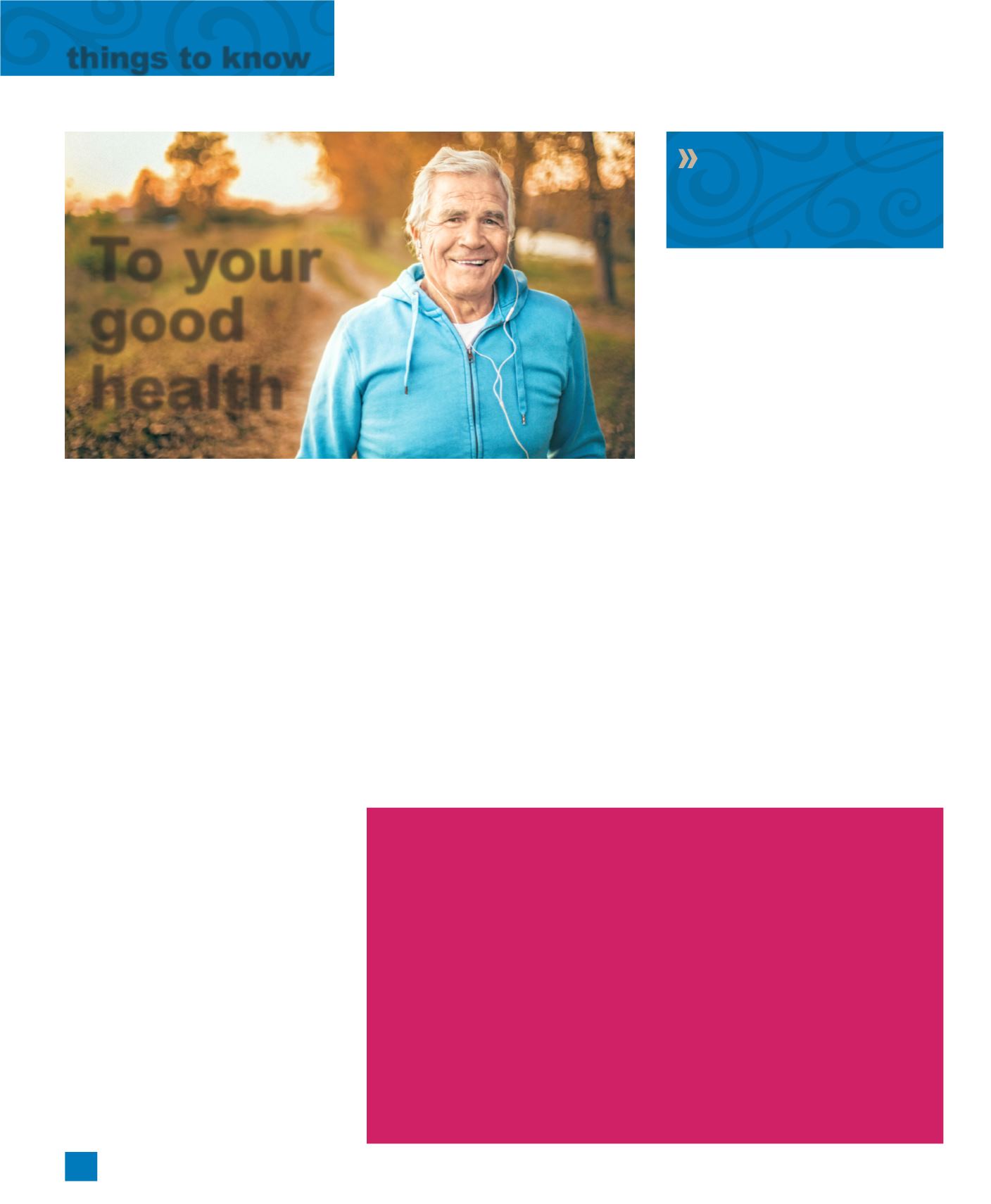 things to know
T
here's no question that age
brings changes.
Stiffening joints can make
it harder to get around. And many
people find that their short-term
memory isn't what it used to be.
Often, difficult situations, such as
the death of a spouse, can add to
the negative changes.
But age can bring positive
changes too. One survey found
that many older people say they
have less stress and more time for
family and hobbies than they used
to. In fact, the majority report they
are satisfied with their lives.
What older age will be like for
you depends on how you live now.
It also depends on how you cope
with the changes that come your
way. You can take steps to make
getting older easier.
These five tips can help:
1
Eat smart.
Start with colorful
fruits and vegetables. Fish is
also a good choice–aim for two
servings a week. Choose whole-
grain breads and pastas. Go light on
red meat and processed meat. Stick
to low-fat or nonfat dairy products.
2
Get enough sleep.
You still
need seven to eight hours
each night.
Lack of sleep can
make it harder for you to learn
and remember. It also may raise
your risk for heart disease. What's
more, healthy sleep can help you
stay well and avoid getting sick.
3
Move more.
Exercise
strengthens muscles and
bones. It also helps improve your
balance, which can lower your
risk for falls. Active people tend
to weigh less and have better
heart and lung function. Ask your
provider what's best for you. Most
people should be active four to
six days a week. Walking is a
good way to start. Aim for 30 to
60 minutes a day.
4
Take your medicine the right way.
Tell your provider about all
your medicines. That includes
vitamins and supplements. Take
them just as your provider tells
you, and get a flu shot every year.
5
Don't smoke.
Stay away from
other people's smoke too.
Smoking leads to lung disease,
heart disease and cancer. If you
smoke, ask your provider about help
with quitting.
Sources: AGS Foundation for Health in Aging; Centers for Disease Control and Prevention;
Mental Health America; Pew Research Center
  COME SEE US!
Look for Gold
Coast Health Plan at health fairs
in your community. For details,
contact
outreach@goldchp.org
.
To your
good
health
SIMPLE THINGS
HELP MAKE HEALTHY
AGING POSSIBLE
What is a geriatrician?
A GERIATRICIAN:
■ 
■
Is a doctor who is trained to
handle health issues for those
who are aging.
■ 
■
Often works with a team of
other professionals to provide
care.
■ 
■
Is someone you may only need
to see once in a while or who
may become your Primary Care
Provider (PCP).
YOUR PCP MAY REFER YOU TO
ONE IF YOU:
■ 
■
Are frail and have trouble with
simple tasks.
■ 
■
Have concerns caused by aging,
including bladder problems, falls
or memory problems.
■ 
■
Have multiple conditions, take
several medicines or see more
than one doctor.
Sources: American College of Physicians; American Geriatrics Society
winning
health
4