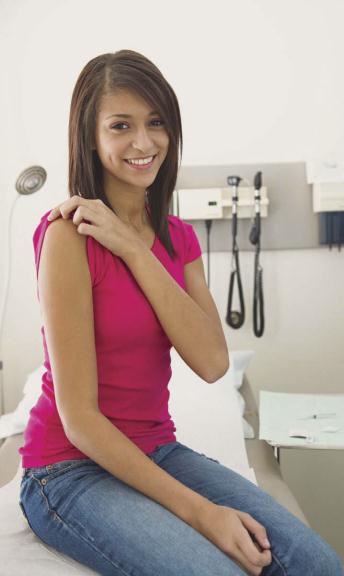 here's no getting around it.
Your child will wind up with
But there are many diseases
you can help your child avoid—
dangerous ones. All you need
to do is be sure your child gets
Today's vaccines help keep
your child safe from more than a
dozen diseases. And many of these
Pertussis
whooping cough, which can make
it hard for your child to breathe.
Measles
Hepatitis B
liver that can lead to cancer.
So check with your child's doctor
to see if your child's shots are
Source: American Academy of Family Physicians; Centers for Disease Control and Prevention
Why kids need shots
Pertussis (also called whooping
cough) is an illness that begins
like a cold. The trouble is that it
can get much worse than a cold.
It can cause coughing fits.
These can be very serious. This
illness can be especially bad for
babies. That's why it's important
to get the shots to help prevent it.
Adults may need a shot if
they've never had one. Also,
protection can wear off over
time. So adults may need booster
shots. This is very important if
Your Provider can help decide
if you should get a shot. Take the
handy immunization record inside
this issue with you to your next visit.
Source: Centers for Disease Control and Prevention
Gold Coast Health Plan has
various methods in place for
Providers, Members, vendors
suspected fraud, waste or
abuse. Reports can be made
A written report sent to:
Attention: Compliance Officer—
A toll-free hotline available 24/7:
866-672-2615
information as possible, such as:
The name of the person(s),
facility, vendor, etc., suspected of
Identifying information, such
as the Member/Provider involved,
facility name, address or telephone
A description and details of the
suspected fraud, waste or abuse:
who, what, where, and the date
and time of the incident(s).
Any documentation that is
Person filing the report: name
and telephone number if you do
not wish to remain anonymous.
for any issues, questions or
You can do your part to help stop Medi-Cal fraud
PLEASE REPORT SUSPECTED FRAUD, WASTE AND ABUSE TO YOUR PLAN
If your child has missed some shots,
don't worry. It's not too late to
catch up. Ask your child's doctor.
WHOOPING COUGH
Is your family safe?