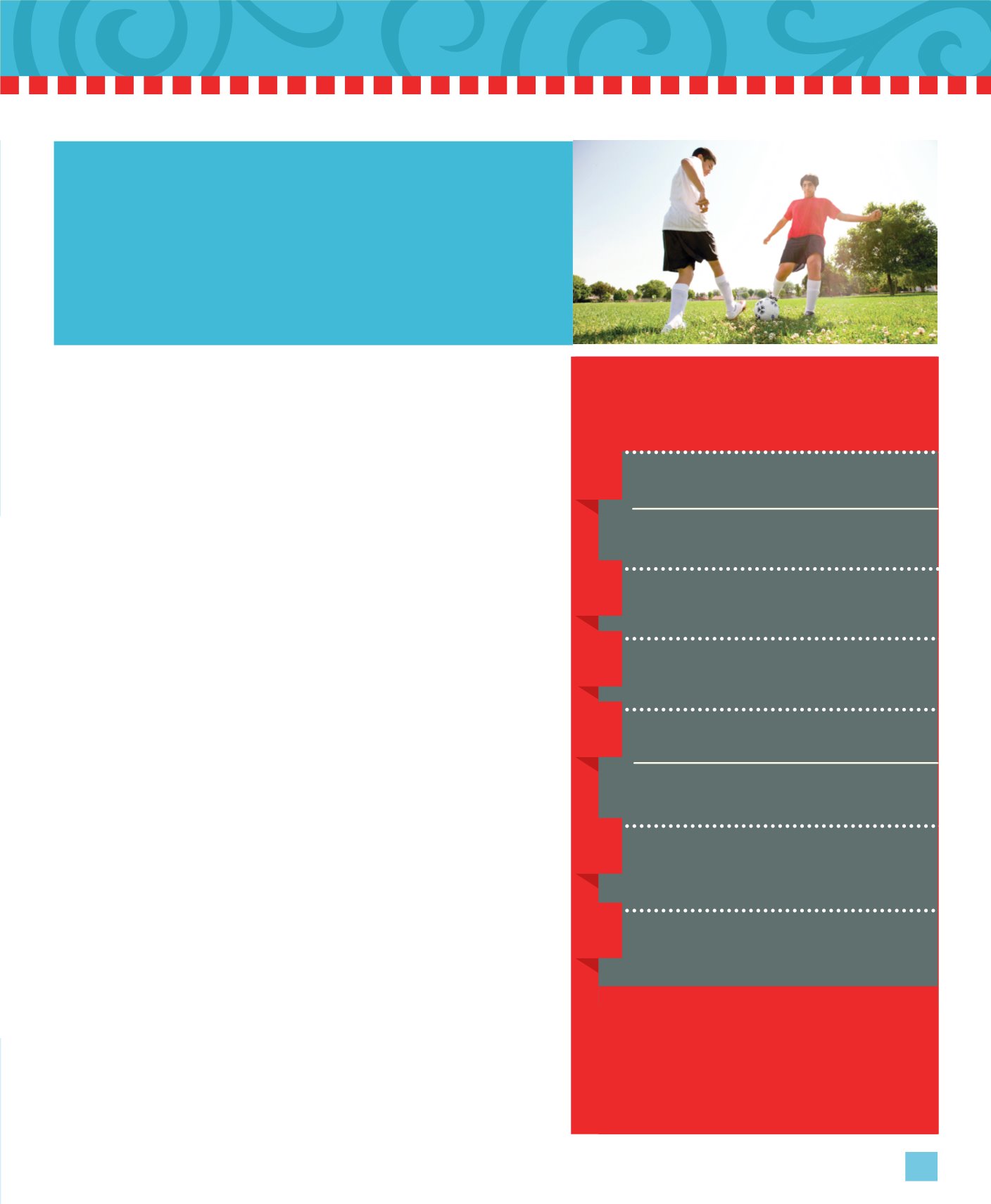 Start screening every 5 years.
CHOLESTEROL
Start screening at least every 2 years.
BLOOD PRESSURE
*African American men should talk with their doctor
at age 45.
Ask your doctor about screening.
DIABETES
Start screening at least every 3 years.
DIABETES
Ask your doctor about screening.
PROSTATE CANCER*
Talk to your doctor about screening options.
COLORECTAL CANCER
Get screened once between ages 65
and 75, if you've ever smoked.
ABDOMINAL AORTIC ANEURYSM
Start screening, depending on your
risk factors.
OSTEOPOROSIS
20
30
45
50
65
70
Sources: American Cancer Society; American Heart Association;
National Institute of Diabetes and Digestive and Kidney Diseases;
National Osteoporosis Foundation
These recommendations are for most men.
Talk with your doctor about what's right for you.
things to know
PROSTATE CANCER SCREENING
A discussion, not a schedule
Do a self-exam after
taking a shower or
bath. Using both
hands:
Hold a testicle
between your thumbs
and fingers.
Roll it gently.
Look and feel for
lumps or bumps.
Look for any
change in size, shape
or how it feels.
Sources: American Cancer Society;
National Cancer Institute
Screening tests
by age for men
Self-exams for testicular cancer
IT'S A YOUNG MAN'S DISEASE
When it comes to cancer, we
hear a lot about early screening.
And for the most part, that's
great advice. But times are
changing when it comes to
prostate cancer.
As it turns out, many cancers
of the prostate develop so slowly
that treatment might not be
needed. So the American Cancer
Society and other experts no
longer recommend set screening
times.
Instead, men should talk with
their doctors. Together, they can
decide based on each man's risk
factors. ose include:
Age.
Family history.
Ethnic background.
Diet.
Overall health.
Screening is generally not
recommended for men older
than 70 or those who have
serious health problems. In these
cases, the bene ts usually don't
outweigh the risks.
If you decide on screening.
ere are two common
screenings. One is a blood test
to measure prostate-speci c
antigen (PSA). e other is a
digital rectal exam. For this
test, the doctor inserts a gloved
nger into the rectum to feel
the prostate. If these tests show
possible signs of cancer, the next
step is a biopsy.
What to watch for.
Prostate
cancer usually has no symptoms
early on. Later symptoms can
include:
Blood in the urine.
Problems with urinating.
Trouble getting an erection.
Weakness or numbness in the
legs or feet.
But remember: Other
conditions can also cause these
symptoms. And most are less
serious than cancer. See your
doctor to get the right diagnosis.
Start the conversation.
Ask
your doctor about screening
around age 50. If you're at high
risk, ask about screening around
age 45. ose at high risk include:
African American men.
Men who have a father, brother
or son who had prostate cancer
before age 65.
member services:
1-888-301-1228
/TTY
1-888-310-7347
winning
health
3