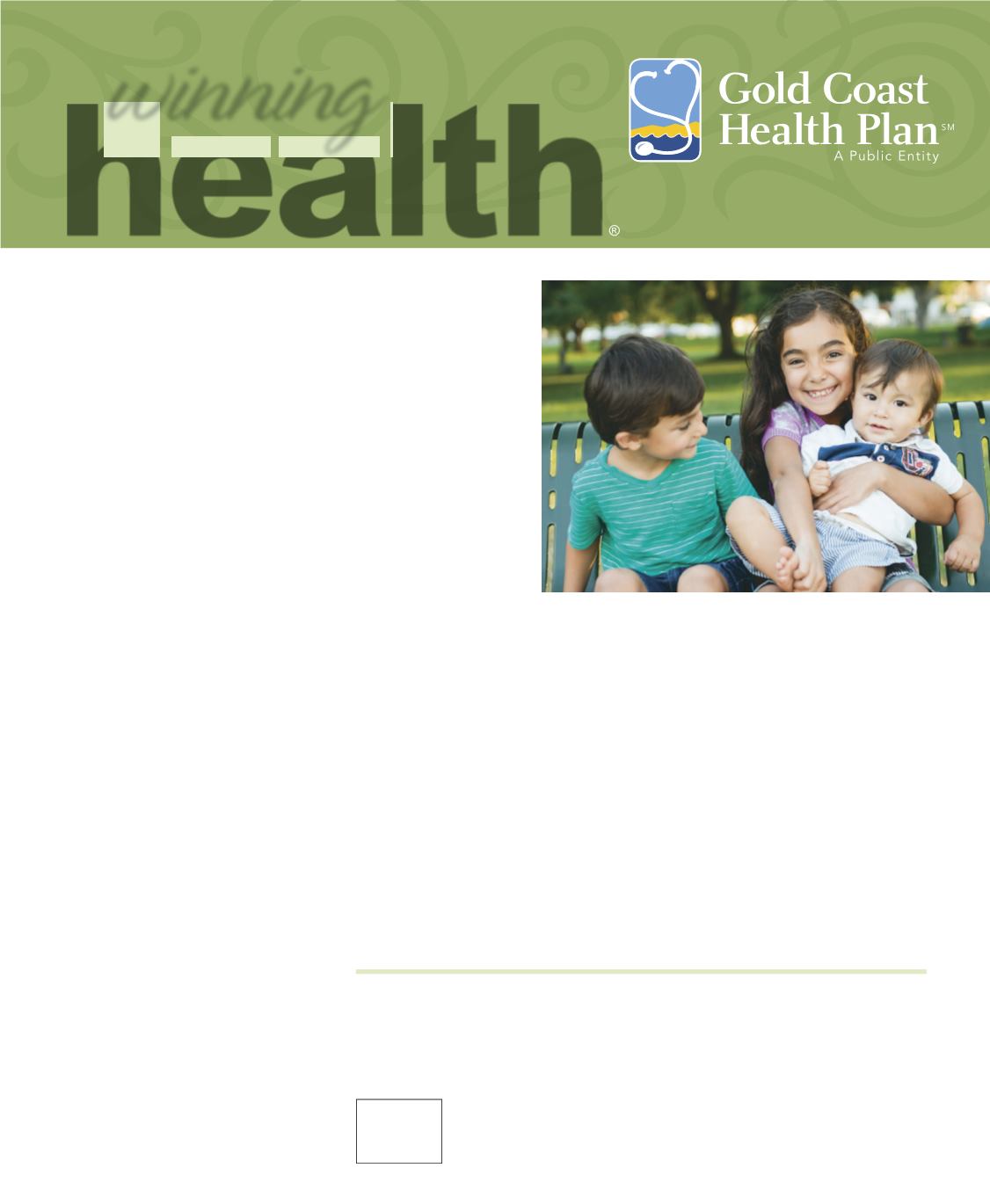 anuary 1, 2014, will be more
than the start of the new year.
It also marks the date when
many aspects of the A ordable Care
Hello, my name is Michael
Engelhard, and I am CEO at Gold
Coast Health Plan (GCHP). I wanted
to take a minute and speak to you
about some of the key aspects of
this new law. ese features are
intended to make it easier for you
to obtain health insurance. ey'll
also provide new protections if you
already have health care coverage.
Access to Medi-Cal increases.
If you earn less than 138 percent
of the poverty level, you'll be
eligible to enroll in Medi-Cal. In
other words, an individual making
less than $15,856 or a family of
four making less than $32,499 are
eligible. Please contact the Ventura
County Human Services Agency for
888-472-4463
Health exchanges are one
key aspect of the ACA.
exchanges are online marketplaces
where you can shop for health
insurance. California will run its
own exchange called Covered
California. Coverage won't begin
until January; however, online
sign-up started October 1, 2013.
is open enrollment period ends
New options
for insurance
PAID
Tax credits will
help many people
buy insurance.
available to people with incomes
between 138 and 400 percent of the
poverty guidelines who can't a ord
coverage elsewhere. You qualify
for a tax credit that will lower the
amount of your monthly premium
if you are an individual making
$28,726 to $45,960. If you are a family
of four making $32,500 to $58,874,
your children qualify for Medi-Cal
and parents may receive a subsidy
and/or a tax credit that lowers the
amount of monthly premiums.
Coverage can't be denied
because of pre-existing conditions.
is protection applies if you're
seeking new coverage or renewing
Annual bene t caps will be
banned.
companies can no longer put limits
on the bene ts you receive in any
If better health is one of your
New Year's resolutions, the ACA
may help make it possible. So, on
behalf of everyone at GCHP, here's
wishing you season's greetings and
Michael Engelhard
CEO, Gold Coast Health Plan
health