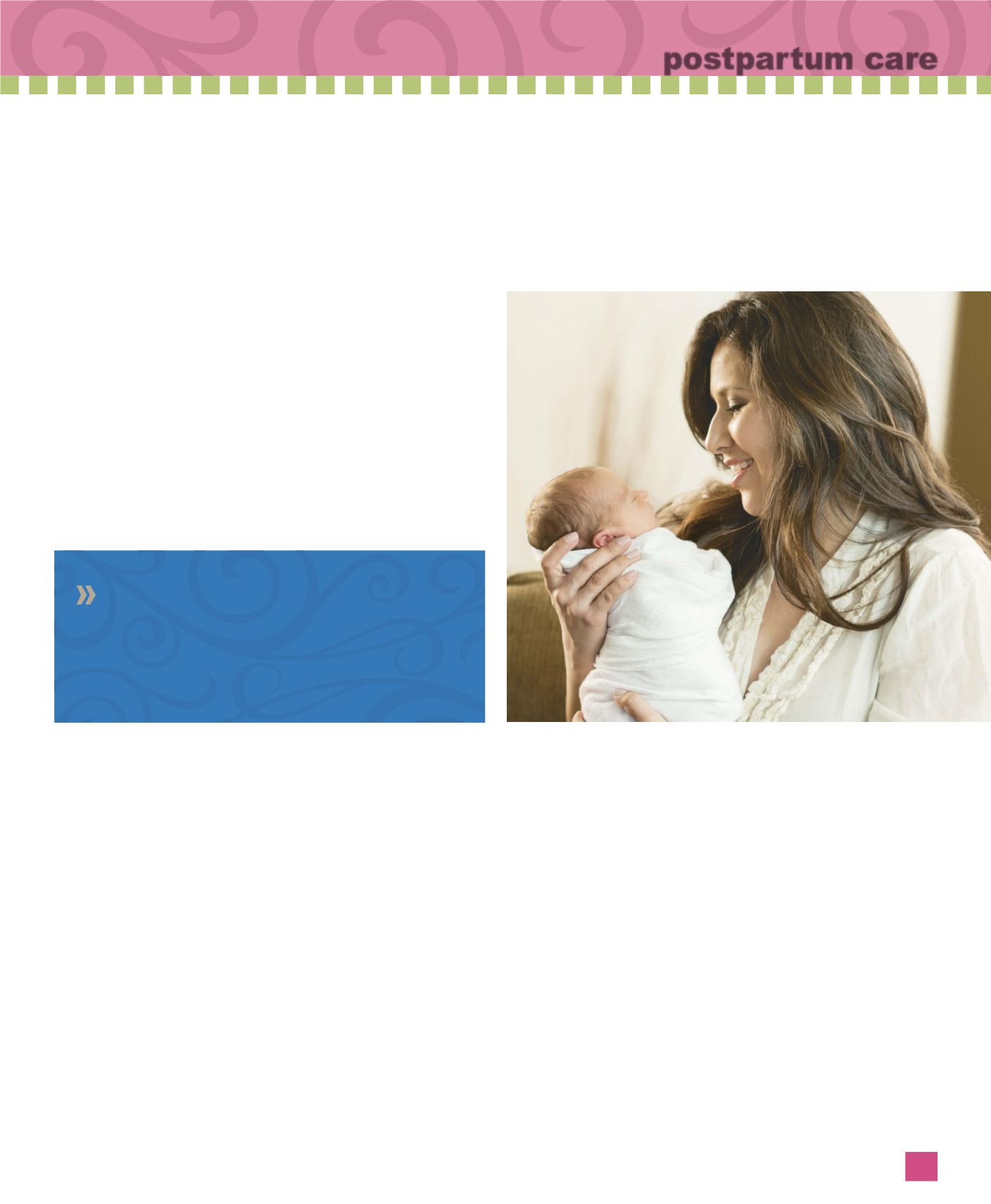 PREGNANCY AND NEW PARENT
E-NEWSLETTER
It's easy to sign up for
Pregnancy
and
New Parent
e-newsletters. To subscribe, visit
You'll start
receiving your e-newsletter right away!
As a new mom, you're busier
than ever. You're tending to
your baby around the clock.
hard work of giving birth. So
be sure to tend to your own
than ever. So is seeing your
A must-have visit.
need a postpartum checkup
about four to six weeks after
giving birth. Earlier if you
POSTPARTUM VISIT
New moms need checkups too
has just what a baby needs
to grow and thrive. Plus,
breastfeeding is good for you.
bene ts you'll both enjoy.
For baby.
the right mix of protein, fat,
sugar and water. It's easy for
protect against illness, such
as ear infection. It lowers
And breastfed babies have
a lower risk for asthma and
For you.
may help you burn calories
and lose baby weight faster.
Plus, it can lower your risk
of breast cancer, diabetes
don't forget all that bonding
time with your little one. It's
Ways and means.
Breastfeeding: Good for baby—and for you
your baby arrives, take a
birthing class. You'll learn
great tips for how to feed
some time for you and your
things. Talk to a lactation
consultant for help. Your
is born too. Your Provider
health. And you can ask any
about two weeks after the
chance for your Provider to:
Be sure you're recovering
See if you can get back to
Your turn to talk.
also your chance to bring
up any concerns you might
and your body. You can ask
It's best to give your baby
breast milk for as long as
possible—a year or more. If
you have to go back to work,
don't worry. You can pump
breast milk so your baby can
have it in a bottle when you
short a time you breastfeed
your baby, be glad you did.
You'll know you gave your
Sources: American College of Obstetricians and Gynecologists; March
of Dimes; National Institutes of Health
Feeling low?
If you feel sad, tell your
Provider. He or she can help
you feel like yourself again.
Source: Office on Women's Health